Snapchat, the platform that revolutionized the way we share moments, has a feature many aren't fully leveraging – the snapchat private story. Think about it: Isn't it more intriguing when a story title captures your attention right off the bat?
But here's the thing, what good are private story names if they're lackluster and forgettable? Dive into this guide to discover unique, catchy, and funny Snapchat private story names that will surely make your stories stand out.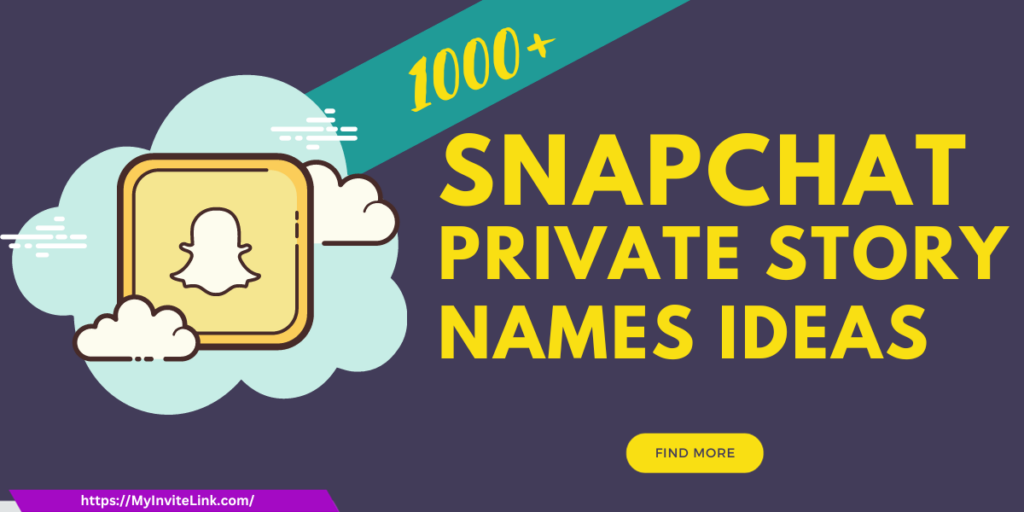 Cool and Creative Snapchat Story Names Ideas
SnapSaga Chronicles
Filtered Realities
Lense-tastic Tales
Snappy Shenanigans
Byte-sized Bloopers
Daylight Doodles
Quirk & Quill Chronicles
Pixelated Ponderings
Snapdoodles & Scribbles
Bitmoji Banter Tales
Flashy Filters & Follies
Behind My Bitmoji
Lens Lunacies
24hr Giggles Gazette
Daydreams in Digital
Meme-tastic Moments
Emoji Escapades
Life, Lensed & Lighthearted
Tales of Tint & Text
SnapSips & LifeTips
Filtered Fantasies & Fiascos
Stickers & Starbursts Saga
Life in a SnapLoop
Moments & Mischief Mingle
Doodle Daydream Diary
Frame-by-Frame Funnies
Bitmoji Buffoonery Bulletin
Daily Dose of Doodles
Filtered Frolics
Virtual Vignette Vault
Lens, Laughs & Late Nights
Reality Remix
Spectacles & Snap-tacles
Byte-sized Balderdash
24hr Chuckle Chain
Snapped & Slapped Diaries
Smiley Sagas & Sticker Stories
Laugh Lens Loop
Filtered Froth & Fun
Pixel Playbook
Bitmoji's Backstage Buzz
Day-in-Snap Spectacle
Lensed & Lensational
Emoji Echoes & Excerpts
Snap, Chuckle, Repeat!
Chronicles of Chuckles & Chat
Filtered Flicks & Funnies
SnapStories & Starry Nights
Digi-Doodles & Daily Drizzles
Life's Snappy Satires
Private Story Names for Girls
Goddess Diaries 🌙
Confessions of a Drama Queen 👑
Cupcakes & Chaos 🧁
Behind the Glitter ✨
Girl with the Golden Lashes
Secrets in Stilettos 👠
Pouty Princess Diaries 💋
Mermaid Tails & Fairytales 🧜‍♀️
Sip 'n' Spill ☕️
Braids, Buns & Bedtime Stories
Whispers & Winks 😉
Starry Night Stories 🌠
Lipgloss & Love Letters 💌
Twirls & Tiaras 💃
Giggles & Gossip 🤭
Glitterati Gals 💖
Hidden Heels & High Notes 🎤
Secret Garden 🌸
Behind the Blush 💄
Damsel Diaries
Candlelit Chronicles 🕯
Roses & Revelations 🌹
Moonlit Memories 🌕
Whims & Wonders ✨
Silk & Secrets
Sweets & Swoons 🍭
Mysteries & Mascara
Tales of Tulle & Tinsel
Bubbles & Bedazzle 🛁
Flutter & Flair 🦋
Dreamcatcher Diaries 🌌
Lace & Lattes ☕️
Twinkles & Tidbits
Wishes & Whimsy 🌠
Pamper & Ponder 💅
Stardust Stories
Elixirs & Elegance 🍷
Winks & Wine 🍷
Frills & Frolic
Midnight Munchies 🍩
Chats & Chocolates 🍫
Ballets & Bouquets 💐
Hush & Hues 🎨
Cocktails & Confetti 🍹
Ruffles & Ruminations
Poems & Petals 🌷
Ponder & Pastels
Dreams & Drizzles ☔
Winks & Whirls 🌪
Glitz & Giggles 😂
Private Story Names for Boys
Bros Before Shows 🍿
Kingdom of Cool 😎
Undercover Dude 🕵️‍♂️
Legends & Lager 🍺
Mischief & Man Buns
Steaks & Snapbacks 🍖
Battles & Beards 🧔
Heroes & Headphones 🎧
Stealth & Style 🕶
Chill & Charisma
Fortnite & Fizz 🎮
Wits & Workouts 🏋️‍♂️
Laughs & Leather 🧥
Riffs & Rambles 🎸
Skates & Snapshots 🛹
Beers & Ball Games ⚾
Wheels & Whisky 🥃
Gadgets & Guffaws 😂
Boots & Beats 🎶
Rides & Riddles 🏍
Kicks & Chronicles 👟
Moods & Motorbikes 🏍
Jets & Jokes ✈️
Bites & Blunders 🍔
Codes & Cocktails 🍸
Shades & Stories 😎
Tales of Ties & Tuxedos
Stunts & Sunglasses 🕶
Hops & Hoops 🏀
Puns & Pints 🍻
Darts & Daydreams 🎯
Suits & Surprises 🕴
Grits & Guitars 🎸
Vibes & Vices
Rock & Roasts 🎸
Chips & Chats 🍟
Goals & Goofs ⚽
Tracks & Teasers 🎵
Sips & Sarcasm 🥤
Plays & Pranks 🎭
Boots & Banter 👢
Laughs & Lagers 🍺
Hits & Hobbies 🏏
Chuckles & Chocolates 🍫
Flips & Flicks 🎬
Cigars & Secrets 🚬
Wings & Whims 🍗
Tunes & Tequila 🎵
Bass & Bloopers 🎣
Munchies & Mysteries 🍕
Best Private Story Names
Whispers of the Wise
Midnight Musings 🌙
Behind Closed Snaps 🚪
Wanderlust & Whimsy 🌍
Cosmic Chronicles 🌌
Beyond the Bubble
Eclipses & Echoes 🌘
Twilight Tales 🌆
Secrets & Stardust
Mysteries & Moonbeams 🌕
Alchemy & Allure ✨
Dreamscape Diaries 🌌
Lost in Luminescence
Whimsical Writings 📖
Echoes of Euphoria
Realm of Reverie 🌌
Slices of Secret 🍰
Fantasy & Footnotes
Chronicles of the Cosmos 🌠
Mystic Moments & More
Beneath the Veil
Golden Glimpses 🌟
Hush & Harmony 🎵
Spectacles & Secrets 🕶
Wonders & Whispers
Dreams & Doodles 🖍
Awe & Ambiance
Chronicles of the Cryptic
Mosaics & Mysteries
Enigma & Essence
Twinkles & Treasures ✨
Lost & Luxurious
Glow & Glimmer 🌟
Shadows & Silhouettes
Realm of Riddles
Hues & Hypotheses 🎨
Tales of Twilight 🌆
Moods & Mirages
Candles & Chronicles 🕯
Beyond the Blink
Stardust & Stories
Illusions & Insights
Dusk & Daydreams 🌌
Galaxies & Giggles 🌠
Mystic & Musings
Charms & Chimeras
Ethereal Echos
Tidbits & Twilight 🌌
Whispers & Wonders
Mysteries & Metaphors
Good Private Story Names
Hidden Horizons
Inner Insights
Behind the Lens 📷
Whispered Words
Coded Chronicles
Rays & Revelations ☀️
Moments & Mysteries
Heartfelt Happenings
Under the Umbrella ☔
Echoes & Elements
Timeless Tidbits
Snapped Secrets
Quiet Quotations
Subtle Stories
Hush & Hues
Unseen Universe
Filtered Feelings 🌈
Muted Memories
Silent Snapshots
Pulse & Pages
Veiled Visions
Uncharted Chapters
Hidden Haikus
Intricate Insights
Still Stories
Gentle Glimpses
Softly Spoken
Whims & Waves 🌊
Murmured Moments
Hushed Highlights
Silhouette Stories
Quiet Quests
Delicate Dreams
Tales from the Shadows
Calm Chronicles
Modest Musings
Serenely Spoken
Whispers in the Wind 🍃
Beneath the Surface 🌊
Softly Sung 🎶
Muted Musings
Quiet Quandaries
Hush Hour
Gentle Giggles
Peaceful Pages
Lulled & Loved
Silent Serenades 🎵
Filtered Fantasies
Whispering Willows 🌿
Humble Highlights
Funny Private Story Names
Snapped My Sanity
Epic Eyebrow Chronicles 🤨
Life's a Glitch
Why Am I Like This? 🤦‍♂️
Chronicles of Clumsy
50 Shades of Sarcasm
Oops! Snapped Again
Lost My Marbles…Found 'Em!
Facepalms & Fiascos
Memes, Myself, and I
Not Another Blooper! 🤣
Epic Fails & Fairytales
Why So Cereal? 🥣
Snaps & Slips
Brain Freeze Chronicles 🍦
50% Sassy, 50% Snappy
Life's a Snitch
Spilled Tea & Sympathy ☕
Sass & Snapbacks
Puns & Buns 🍔
Chronicles of a Chaotic Cucumber
Got Snaps? 🥛
Snaptastrophes
Snapping Under Pressure
Unfiltered Funnies
Doodles & Daydreams 🖍
Why So Snap-pensive?
Just Here for the Snack-pics 🍕
Sarcasm & Selfies
Puntastic Perspectives
Snapping & Napping 😴
Life, Lattes & Laughable Moments ☕️
Snap, Crackle, Pop!
Chronicles of a Laughable Lemon 🍋
50% Coffee, 50% Chaos ☕
Life's Snappy Surprises
Pics or It Didn't Happen
Why So Serial? 🥣
Got More Issues Than Vogue
Epic Eats & Embarrassments 🍩
Broke It, Snapped It
Snapping to Conclusions
A Series of Unfortunate Snaps
Snap Out of It!
Life's a Beach…Then You Snap 🏖
Laughing at My Own Snaps
More Sass than Class
Pic Me Up Before You Go-Go
Just Snapped and Felt Cute
Snaptastical Shenanigans
GYM Private Story Names
Gym Rat Chronicles
Sweatin' Out The Stress
Gains & Pains Diaries
Lifting My Spirits Up
Flexin' & Textin'
Weights Before Dates
Curls For The Girls (or Boys)
Squat Squad Snaps
Dumbbell Drama
From Flab to Fab
Cardio Confessions
Gym & Juice
No Pain, No Gain Zone
Flex Zone Only
Sweat, Smile, Repeat
Barbell Babble
Tales of the Treadmill
Protein & Poses
Abs-olutely Snapworthy
Gym Selfies & More
The Daily Grind
Muscle Up Moments
Burnin' & Churnin'
From Muffin Top to Tip-Top
Sweat Stories
Workout Wonders
Leg Day Diaries
Pump & Pose
Lunge & Laugh
My Gym Jam
Fitness & Funnies
Bench Press Besties
Kettlebell Chronicles
Stretch & Snap
Gym Glow Up
From Couch to Crunches
Pull-Up Party
Weights & Witty Remarks
Gym Giggles
Ripped & Ready Snaps
Sweat it Out Sessions
Chasing the Pump
Beast Mode Babble
Plank & Prank
Gym Shenanigans
Run, Rest, Repeat
Lift, Laugh, Love
My Fitness Fables
Crunch Time Confessions
Gym & Grin
Cool Private Story Names
The Elite Feed
Snap Saga
Behind The Screens
Cooler Than Your Ex's
Unfiltered & Unfazed
Snaps & Sass
Keeping Up With The Kool
Exclusive Extravaganza
Candid Chronicles
Chillin' Like a Villain
Top Secret Tales
The Snap Lounge
Stories Untold
The Chill Zone
Private Party Central
Snap, Crackle, Pop!
VIP Views
Off The Record
Cool, Calm, & Snapping
The Snaptastic Realm
Spectacular Spectacles
Snap-worthy Secrets
Cool Beans Chronicles
Epic Snap Escapades
Savage Stories
The Hush-Hush Hub
Secret Snap Society
Cooler Chronicles
Just Between Us
The Snappy Hour
Cool & Candid
Mystic Moments
The Cool Cat Club
Untamed Tales
Epicenter of Excellence
The Hipster Hub
Stellar Snaps
Coolest of the Cool
No Ordinary Stories
Glimpses of Greatness
The Snazz Squad
Private Paradise
Too Cool for School
Snap Secrets Unveiled
The Elite Ensemble
Cool & Collected Chronicles
Snaptacular Adventures
Frosty Feeds
The Chill Chronicles
Top Tier Tales
Holiday Private Story Names
Santa's Secret Snaps
Jingle Bell Jokes
Eggnog & Elfsies
Holly Jolly Highlights
Snowy Snap Stories
Mistletoe & Memories
Sleigh My Name, Sleigh My Name
Winter Wonderland Whims
Fa-la-la-la-snaps
Gobble Till You Wobble
Haunted Holiday Hoots
Candy Cane Chronicles
Deck The Halls & Snaps
Pumpkin Spice & Everything Nice
My Boo's Spooky Views
Easter Egg-stra Stories
Summer Santa Shenanigans
Valentine's Vibes Only
Beach, Please! It's Xmas
A December to Remember
Turkeys & Tantrums
Firework Flicks
All I Want for Xmas is Snaps
Snowflakes & Selfies
Frosty's Snap Fables
Cheers to New Years
Ho-Ho-Holiday Snaps
Haunted & Hilarious
Happy Holi-snaps
Bunny Hops & Bops
Thanksgiving Thug Life
Tinsel & Tales
My North Pole Nook
Winter Snaps & Wraps
Halloween Howls
Eggs-tra Special Easter
Spooky Spirits & Snaps
Christmas Cookie Crumbs
Under the Mistle-flow
Rudolph's Red-Nose Reels
Spooky to Silly Seasons
Merry & Bright Bytes
Holidays Unwrapped
Gifts, Giggles, & Snaps
Pumpkin Pie Peeks
Snowman's Secret Society
Candles, Carols & Captures
July Jests & Junks
Feast, Family, & Filters
Eve's Exclusive Excerpts
Baddie Private Story Names
Too Glam to Give a Damn
Baddie Broadcasts
Slay All Day, Snap All Night
Boss Babe Bytes
Baddie Behavior
Unapologetic & Iconic
Too Sassy for You
Drippin' in Drama
Not Your Basic Snap
Crown Adjustments Only
Breaking Hearts & Taking Names
VIP Baddie Vibes
Lit & Legit
On Fleek Feeds
Too Hot to Handle
Baddie Diaries
Bow Down, Basics
Snatched & Snapworthy
Queendom Chronicles
Bad & Boujee Broadcasts
Shades & Slayage
Flawless & Fearless
Savage & Snatched
Glow & Get It
All Hail the Baddie
Baddie Behind the Scenes
100% That Baddie
Red Lips & Revelations
Baddie Banter
Badassery & Beyond
Baddie & Proud
Snap & Sizzle
No Basic Zones
Blazing Baddie Broadcasts
Sultry Snaps & Stories
The Baddie Bunch
Rebel, Rant & Revel
Bold & Baddie
Heels, Hype & Highlights
Goddess Glimpses
All About That Baddie Life
Too Baddie for Boredom
Baddie Bling Broadcast
Diva Diaries
Fierce & Fabulous
Baddie, Unfiltered
Baddie Glow & Tell
Baddie Boot Camp
Baddie Vibes Only
Queen of Snaps
Sad Private Story Names
Tears & Tidbits
Sighs & Skies
Rainy Day Reveries
Bleak & Peek
Heartbreak Hotel
Gloomy Glimpses
Shadows & Snaps
Melancholy Moments
Blue Mood Broadcast
Tears, Tunes & Tales
Sulking in Silence
Echoes of Emptiness
Lost in Thought
Sorrow Stories
Behind My Blues
Moonlit Melancholy
Twilight Tales
Midnight Musings
Solitary Snaps
Feeling Blue & Snapping Too
Silent Screams & Dreams
Wilted Roses Revelations
Tears & Tunes
Heartstrings & Hard Times
From Dusk Till Down
Raincloud Chronicles
Whispers of Woe
Solace & Snapshots
Nostalgia Nights
Somber Snap Scenes
Drenched in Despair
Lost & Found Footage
Echoes of Yesterday
Saddened Snap Saga
Broken Dreams & Beams
Glimpses of Gloom
Dusky Diaries
Behind the Rain
Tales from the Shadows
Downcast Days
Misty Memories
Bittersweet Broadcasts
Eclipsed Emotions
Drowning in Thoughts
Fading Footprints
Whispers in the Wind
Dreary Dreamscapes
Twilight Teardrops
Silent Sobs & Stories
Gray Skies & Goodbyes
Cute Private Story Names
Paws & Playtime
Bubbles & Butterflies
Giggles & Glitters
Cuddle Chronicles
Sunshine Snuggles
Fluffy Feeds
Doodles & Daydreams
Starry-Eyed Snaps
Sweets & Smiles
Heartbeats & Hugs
Rainbow Reveries
Kitten Kisses
Marshmallow Moments
Teddy Tales
Sprinkles & Stories
Dreamy Daisies
Whimsical Wonders
Candy Cloud Captures
Moonbeam Memories
Puppy Pouts & Puddles
Lullaby Landscapes
Twinkling Twilight Tales
Wiggles & Whispers
Honeycomb Highlights
Blossom Bytes
Lovebugs & Lullabies
Pebbles & Playdates
Whimsy & Winks
Cherry Cheeks & Chirps
Muffin Moments & Mirth
Tinkling Twinkles
Bubblegum Broadcasts
Feathered Fables
Pixie Dust & Ponderings
Duckling Dips & Doodles
Enchanted Escapades
Fairy Flutters & Frolics
Glazed Donut Delights
Panda Hugs & Pudding Pops
Woolly Wonderlands
Baby Bloopers & Blinks
Stardust & Snuggles
Glimmering Glimpses
Cotton Candy Clouds
Lovebird Lullabies
Bunny Bounces & Boops
Sweet Pea Snapshots
Polar Bear Peeks
Cupcake Cuddles
Magic & Munchkins
Depression Private Story Names
Echoes of Silence
Shadows of My Soul
Lost in Thoughts
Waves of Emptiness
Whispers of Despair
Moments in the Mist
Behind the Smiles
Tears Behind Tints
Clouded Chronicles
Fading Footsteps
Drowning Dreams
Twilight Tinges
Eclipsed Emotions
Unvoiced Agonies
Shattered Snapshots
Glimmers of Gray
Desolate Diaries
Silent Screams
Bleeding Heart Bytes
Dusky Despondence
Wilted Whispers
Hidden Hurts
Muted Memories
Dimmed Delights
Broken Bridges
Fading to Black
Isolated Islands
Lonely Lanterns
Hollowed Halls
Tales of the Torn
Eroded Echoes
Veiled Voids
Forgotten Footprints
Raincloud Reveries
Subdued Shadows
Weeping Willows
Vanishing Vistas
Deserted Dreamscape
Lost Lullabies
Frayed Fragments
Sinking Sensations
Whirlwind of Woes
Numb Narratives
Bleak Boundaries
Fallen Feathers
Dulled Desires
Turbulent Tides
Melancholic Muse
Crumbling Castles
Gone Glimmers
Agri Private Story Names
Plow & Ponder
Green Thumb Glimpses
Farmyard Fables
Soil & Stories
Harvest Hootenannies
Tractor Tales & Trails
Crop Chronicles
Barnyard Broadcasts
Tales from the Tiller
Pasture Ponderings
Field & Filtered
Sprout Snaps
Seedling Secrets
Muddy Boot Memories
Farm Fresh Feeds
Acre Adventures
Grain & Gains
Budding Bytes
Tales of Trowels
Cultivate & Capture
Rural Reveries
Plants & Pranks
Barnyard Babbles
Growth & Grins
Sow & Show
Pastoral Peaks
Hay Bale Highlights
Farm to Frame
Dirt Diaries
Moo-ments & Memories
Cultivated Captures
Country Corners
Furrowed Fables
Greenhouse Giggles
Fieldwork Funnies
Agri Antics
Countryside Chronicles
Garden Gossips
Farmhouse Frolics
Veggie Ventures
Pasture & Pastimes
Harvest Humor
Cattle & Chatter
Row by Row Revelations
Crop & Roll
Farm Flicks
Bumper Crop Chronicles
Vine & Dandy
Farmstead Footnotes
Meadow Musings
University Private Story Names
Dorm Diaries
Lectures & Lattes
Campus Capers
Bookworm Broadcasts
Study Sprints & Snaps
Late-Night Library Laughs
Degree Daydreams
Tales from the Quad
Finals & Frenzies
Caffeine Chronicles
Profs & Puns
Doodles in the Margins
Majors & Mischief
GPA Giggles
All-Nighters & Antics
Textbook Tales
Lecture Hall Larks
Semester Snapshots
Midterm Madness
Dorm Room Drama
Assignment Adventures
Campus Chronicles
Study Break Snaps
Exams & Excursions
Tales of Tuition
Class Clowns & Crowns
Student Life Secrets
Ramen & Revelations
Fraternity Funnies
Sorority Stories
Dissertation Days
Lab Laughs
Cramming Chronicles
Tales from the Texts
Break & Binge
Tutor Tales & Tattles
Campus Coffee Chronicles
Freshman Fables
Senior Snap Stories
Majors & Minors
Lounge & Learn
Assignment Agonies
Lecture Lunacy
Exam Exhaustion
Textbook Teasers
Gown & Town Tales
Student Union Snippets
Night Before Notes
Finals & Frolics
Degree Delights & Dreads
Dark Humor Private Story Names
Grim Grins
Morbid Mirth
Gallows Giggles
Cryptic Chronicles
Tales from the Crypt-ic
Coffin Confessions
Skeletons & Snickers
Tombstone Tidbits
Eerie Ironies
Graveyard Guffaws
Dark & Snarky
Shadows & Shams
Nocturnal Nonsense
Black Humor Bytes
Dusk & Deadpan
Macabre Muses
Ghoul Giggles
Wicked Whispers
Twilight Teasers
Deathly Delights
Mortuary Mirth
Cryptic Captures
Midnight Mockeries
Grim Reaper Gags
Spectral Snickers
Underworld Uproars
Sarcophagus Snaps
Twisted Tickles
Darkside Doodles
Netherworld Notes
Nightshade Nods
Phantom Phunnies
Dreadful Delights
Cursed Chuckles
Banshee Banters
Sinister Smiles
Mausoleum Musings
Crypt Captions
Ethereal Ironies
Pallbearer Puns
Dark Days & Delirium
Chilling Chuckles
Ghastly Gags
Afterlife Antics
Undertaker Undertones
Cemetery Satire
Twilight Titters
Noir Notes
Ghastly Grins
Shadowy Shenanigans
Creative Private Story Names
Palette & Pixels
Brushstrokes & Bytes
Dreamer's Digest
Canvas Chronicles
Innovator's Incidents
Muse Moments
Sketchbook Secrets
Doodles & Daydreams
Artistic Adventures
Creative Cavern
Pixelated Perspectives
Crafty Captures
Mind's Masterpieces
Imagination Infusion
Whimsical Workbench
Dream, Design, Display
Visionary Vibes
Unconventional Universe
Inspiration Instants
Abstract Attic
Ink & Ideas
Sculpted Stories
Artisan's Archive
Fantasy Frames
Creativity Cradle
Mastermind Musings
Inventive Insights
Designs & Daylight
Brainwave Broadcast
Palette & Playtime
Creative Corners
Scribbles & Scripts
Dreamy Drafts
Noteworthy Novelties
Conceptual Captures
Artful Antics
Ingenious Inputs
Crafted Chronicles
Vivid Ventures
Original Orbits
Brush & Blush
Renaissance Reveries
Easel Epics
Mosaic Musings
Imagery Imaginings
Dreamscape Diaries
Witty Workshops
Art & Anecdotes
Palette & Prose
Masterpiece Memories
Rude Private Story Names
Savage Snap Station
Roasts & Rants
Blunt Broadcasts
No Filter Fables
Sassy Snap Series
Tales of Tactlessness
Rude Reveries
Blatant Blips
Unfiltered Uproars
Crass Chronicles
Daring Disses
Straightforward Snaps
Brazen Broadcasts
Snide Snap Zone
Cheeky Chats
Brash Bytes
Bold & Blunt
Unapologetic Updates
Snappy Sarcasm
Impudent Inputs
Ruthless Remarks
Audacious Annals
Tales of Temerity
Cutting Commentaries
Snarky Snap Stories
Defiant Dispatches
Candid & Crude
Outspoken Outings
Risqué Records
Blunt Blowbacks
Raw & Rude
Disobliging Diaries
Reckless Recollections
Snaps Sans Sensitivity
Scathing Stories
Rude & Unrefined
Frank & Forefront
Audacious Archives
Irreverent Insights
Brusque Bulletins
Bluster & Bluntness
No Holds Barred
Sharp & Snippy
Pert & Provocative
Tales of Tartness
Boldface Broadcasts
Saucy Snap Series
Blatant Blabber
Cheeky Chronicles
Snide & Snappy
Summer Private Story Names
Sun, Sea, & Snaps
Sizzle & Snap
Sunburn Sagas
Tan Lines & Tequila
Beach Bum Broadcasts
Sunkissed Stories
Sandy Snapshots
Golden Hour Glimpses
Tropic Like It's Hot
Heatwave Highlights
Seaside Shenanigans
Palm Trees & 80 Degrees
Summer Soiree Snaps
Wave Raves
Poolside Peeks
Sunset Snap Series
Saltwater Snap Diaries
Bronzed & Breezy
Surf, Sand, & Snaps
Lemonade & Lazy Days
Sundress & Sunsets
Flip Flops & Filters
Bikinis & Beachballs
Laidback Lagoon
Sunscreen & Selfies
Shades & Sunshine
BBQ & Beach Vibes
Popsicles & Pool Dips
Hot Days, Cool Snaps
Tidal Tales
Sundrenched Stories
Ocean Odes
Ice Cream & Island Dreams
Beach Blanket Blips
Sultry Summer Sights
Seashell Snapshots
Tanning & Tangents
Beachy Keen Chronicles
Sunlit Snap Stories
Golden Gaze Gazettes
Scorched & Snapworthy
Vitamin Sea Views
Breezy Broadcasts
Mermaid Muses
Cruising & Crooning
Starlit Summer Nights
Waves & Whimsy
Pier Peeks
Summertime Silliness
Blazing Beach Broadcasts
Car Private Story Names
Vroom Vroom Views
Highway Highlights
Cruisin' Chronicles
Turbo Tales
Dashcam Diaries
Gearshift Giggles
Rev & Revel
Burnout Broadcasts
Asphalt Adventures
Ride & Reflect
Pedal to the Metal Moments
RPM Reveries
Bumper to Bumper Babbles
Mile Marker Memories
Hood & Humor
Wheel & Whimsy
Drive & Dive
Car Park Capers
Tailgate Tales
Clutch & Catch Up
Roadtrip Ruminations
Fuel & Funnies
Radiator Rants
Pit Stop Peeks
Wheels & Wonders
Brake & Breathe
Ride & Roast
Honks & Hilarity
Journey Jests
Speed & Spills
Carburetor Chronicles
Turbocharged Tidbits
Drive-Thru Diaries
Skid & Snap
Muffler Musings
Dashboard Dramas
Rally & Revelry
Throttle Thoughts
Shift & Share
Lane & Laugh
Ride & Rhythms
Odometer Oddities
Acceleration Antics
Engine Escapades
Mirror & Moods
Detour Delights
Carpool Caprices
Garage Gags
Beep & Boop
Wanderlust Wheels
Unique Private Story Names
Galactic Glimmers
Mystic Moon Musings
Kaleidoscope Chronicles
Enigma Entries
Otherworldly Observations
Temporal Twists
Stellar Snap Secrets
Labyrinthine Legends
Cosmic Captures
Arcane Anecdotes
Fabled Frequencies
Whimsy & Warp
Quantum Quirks
Ethereal Echoes
Realm & Riddles
Spectral Snapshots
Beyond the Binary
Mysteries & Moonbeams
Nebulous Notes
Twilight Transmissions
Parallel Perspectives
Dimensional Diaries
Celestial Chronicles
Astral Anomalies
Metaphysical Memoirs
Realm Reflections
Unearthly Updates
Surreal Stories
Temporal Tidbits
Vivid Vortex Views
Lore & Luminance
Otherworldly Oddities
Chronicle of the Cosmos
Bewitched Broadcasts
Stardust & Stories
Mystical Musings
Phantom Phables
Netherworld News
Enchanted Entries
Voyage to the Void
Bizarre & Beyond
Realm of the Rare
Unique Universe
Magic & Moonlight
Dreamscape Dispatches
Supernatural Snapshots
Temporal Travelogues
Eldritch Episodes
Unique & Unearthed
Twists & Turns
Football Private Story Names
Goal-Getter Glimpses
Pitch-side Puns
Cleats & Captures
Red Card Rants
Offside Observations
Soccer Shenanigans
Tackling Tales
Net & Natter
Penalty Box Peeks
Pitch & Play
Halftime Hoots
Slide Tackle Snaps
Football Funnies
Dribble Diaries
Stadium Stories
Whistle & Wit
Boots & Blunders
Matchday Madness
Extra Time Experiences
Referee Roasts
Soccer Saga
Turf & Tidbits
Corner Kick Chronicles
Final Whistle Feelings
Goalpost Gags
Soccer & Silliness
Keeper's Corner
Striker's Snapshots
Midfield Musings
Foul & Fun
Pitched Perfect
Training Day Tales
Goal-line Glimpses
Header Highlights
Football Fanatics
Benchwarmer Broadcasts
On the Ball Banter
Trophy Trials
Football & Frolic
Tactics & Titters
Yellow Card Yarns
Match Moment Memes
Soccer Sunsets
Footy Feats
League & Laughter
Sideline Secrets
Goalie Guffaws
Play by Play Puns
Injury Time Insights
Pitch & Pint
Simple Private Story Names
Snap Spot
Day by Day
Life Lens
Simple Snaps
Just Me
Daily Dose
Here & Now
Life Lines
Snapbook
Moments Captured
Today's Tale
Quick Clicks
Snapshot Stories
Everyday Edits
Snap & Share
Slice of Life
Just Snapping
Plain Pixels
Simple & Seen
My Snap Space
Life's Like This
Current Captures
Just Clicks
Snap Sequences
Today's Tidbits
Casual Captures
Snapped
Through My Lens
Peek & Peak
Easy Viewing
Day's Display
Quick Glances
Snap Simply
Life's Snippets
Just Today
No Frills Films
Snap Script
Day in Snaps
Snapshot Simplicity
Daily Diary
Quick Clips
Clear & Clicked
Simple Seeings
Snap Essence
Simple Stills
Basic Broadcasts
Snap Slices
Everyday Essence
Moments & Me
Snap Sighs
Horse Private Story Names
Gallop Glimpses
Stable Stories
Mane Moments
Hoof & Humor
Equestrian Escapades
Saddle Snapshots
Horseplay Highlights
Trotting Tales
Bridle Banter
Neigh & Play
Stirrup Stories
Barnyard Broadcasts
Paddock Peeks
Canter Chronicles
Jumping Jests
Horseshoe Hoots
Tales from the Tack
Horse & Heart
Rider's Reverie
Equestrian Edits
Mare Musings
Giddy Up Gags
Horse Hilarities
Stallion Snapshots
Foal Frolics
Ranch Rambles
Bit & Banter
Galloping Gags
Tail & Tale
Equine Episodes
Saddle Up Snaps
Trail & Trot
Pony Peeks
Ride & Revel
Hoofbeat Humor
Barn Banter
Canter & Capture
Equestrian Enigma
Gallop Giggles
Horse Whisperer Whispers
Stable Snap Secrets
Ride & Roam
Neigh Narratives
Mane & Mirth
Jockey Jests
Bridle & Broadcast
Paddock Puns
Riding Ruminations
Equine Echoes
Horse & Here
Gangster Private Story Names
Mafia Musings
Underworld Updates
Boss Broadcasts
Mobster Moments
Capo Chronicles
Thug Theories
Criminal Captures
Hood Humor
Heist Highlights
Don Diaries
Gangland Glimpses
Street Snap Stories
Undercover Undertakings
Wise Guy Whispers
Hustler's Hoots
Gang Signs & Snap Lines
Throne & Threats
Crime Chronicles
Loyalty & Luxury
Snitches & Snaps
Empire Edits
Racket & Revel
Gangster Giggles
Syndicate Secrets
Rap & Riddles
Mogul Moments
Kingpin Keepsakes
Godfather Gags
Turf Tales
Goon Glimpses
Rivalry & Revelry
Hustle & Highlights
Street King Chronicles
Dealings & Decoding
Mob Memories
Gangland Gossips
Hitman Hilarity
Scarface Snapshots
Mafia Memoirs
Crew & Chronicles
Vendetta Vignettes
Code & Capture
Loyalty & Laughs
Racketeer Records
Don's Dispatches
Mobster Musings
Empire Episodes
Gangster's Gamble
Throne & Threats
Crime & Captures
Toxic Private Story Names
Venomous Views
Dangerous Doses
Toxic Tales
Hazardous Highlights
Poison Peeks
Noxious Notes
Viral Vibes
Toxicity Tales
Bitter Broadcasts
Savage Snaps
Corrosive Chronicles
Radiation Reveries
Ruthless Records
Tainted Thoughts
Contaminated Captures
Infectious Insights
Twisted Tales
No Filter, No Favors
Corrupt Chronicles
Hazardous Humor
Toxic Teasers
Danger Diaries
Risky Records
Venom & Vignettes
Acidic Antics
Bleak Broadcasts
Polluted Peeks
Sinister Snaps
Detrimental Diaries
Toxicity & Tumult
Noxious News
Bitter Bytes
Harmful Humor
Dose of Danger
Spoiled Snapshots
Vice & Venom
Perilous Posts
Malicious Muses
Toxic Tidbits
Contagious Captures
Rancorous Records
Treacherous Tales
Toxicity & Turmoil
Noxious Narratives
Hazardous Hoots
Caustic Chronicles
Bane & Banter
Radiant & Radioactive
Polluted Posts
Dangerous Dispatches
Travel Private Story Names
Wanderlust Windows
Journey Journals
Global Glimpses
Passport Pixels
Nomad Notes
Expedition Edits
Adventurous Anecdotes
Traveler's Tales
Destination Diaries
Jetset Jests
Voyage Vignettes
Miles & Memories
Backpacker's Broadcasts
Sights & Snapshots
Roaming Records
Flight & Fancy
Trail Tales
Wandering Whispers
Cross-Continental Chronicles
Globetrotter Gags
Exotic Escapades
Borderless Broadcasts
Passage Peeks
Odyssey Observations
Trek & Talk
Journey Jokes
Maps & Moments
Travel Tidbits
Wayfarer's Whimsy
Tourist's Tales
Explorer's Echoes
Roam & Record
Wanderer's Window
Lost & Found Footage
Scenic Snapshots
Adventures & Antics
Around the World in Snaps
Landmarks & Laughs
Trailblazer Tales
Nomadic Narratives
Excursion Episodes
Trails & Travails
Traveler's Tribulations
Journey Jottings
Vista Views
Epic Explorations
Roamer's Records
Voyager's Vision
Expedition Echoes
Getaway Giggles
How to Edit Your Private Story Name?
Want to refresh the name of your private story on Snapchat? It's a breeze:
Launch the Snapchat app.
Click on the profile icon on the top-left.
Under 'My Stories', tap the three dots beside your Private Story.
Select 'Rename Story' and input your new title.
Voila! Your snapchat private story has a brand-new name.
Why Should You Care About Snapchat Private Story Names?
Snapchat stories are a delightful medium because they enable us to exhibit a more personal, unfiltered side. They help us connect with family and friends globally, providing a sneak peek into the tapestries of our daily lives.
Private stories take this intimacy up a notch. They allow you to share memories, big or small, with a select group. But to truly captivate your chosen audience, you need good private story names. Engaging story names stir curiosity, making viewers eager to click and watch. And trust me, you don't want to miss out on that level of engagement!
What Exactly is a Private Story?
A private story is a collection of photos or videos that remain exclusive to the creator and a chosen few. Unlike the general public stories we often come across on social media platforms like Snapchat or Instagram, private stories are more intimate and guarded.
To craft a private story on Snapchat, users can select the "My Story" or "Private Story" option. After adding the desired content, they choose which friends or followers should have the viewing rights. Want to know more about Snapchat features? Check out the latest guide on Snapchat Planets.
Private Story vs. Regular Story
While a private story is exclusive to the creator and chosen viewers, a regular story is open to all friends or followers. Private stories are personal spaces for sharing intimate content, whereas regular stories are public spaces for more general content.
How To Choose Private Story Names for Snapchat?
With a sea of possibilities, how do you zone in on that perfect title? Here are a few pointers:
Make it Memorable: Keep it snappy (pun intended!) and catchy. "Wanderlust Whispers" sounds more inviting than "My Travels", right?
Infuse Creativity: Puns, rhymes, or alliterations can make your title pop. Think "Snap-tastic Sorrows" or "Daily Dose of Drama."
Relevance is Key: Ensure your title aligns with the theme of your story. If it's about your gastronomic adventures, "Foodie Fables" is apt.
Keep it Clean: Remember, snapchat private story names should steer clear of offensive language or content.
Test Drive: Before finalizing, bounce the names off a few friends. Their feedback might give you a fresh perspective!
Conclusion
Snapchat, with its array of features, brings storytelling to our fingertips. And private stories? They're the cherry on top. Whether it's "Midnight Musings," "Sassy Snap Sprees," or "College Chronicles," ensure your snapchat story names are as vibrant as your tales.
Embrace your creativity, and keep snapping! And if ever in doubt, return to this guide for inspiration. Happy Snapping! 💫💡